Benefits of membership
Fortune Connect™ membership provides fellows access to events, learning, networking and exclusive content—supported by Fortune's award-winning editorial content–that will help you join the next generation of business leaders.
As the premier chronicler of business and leadership, Fortune has developed the competitive advantage of perspective, insight, and context. Through Connect, you will better understand what ongoing changes in the business community mean for you, your team, your company and the world. Best of all, you'll make new relationships with like-minded peers from around the globe who are committed to co-creating a better future with you.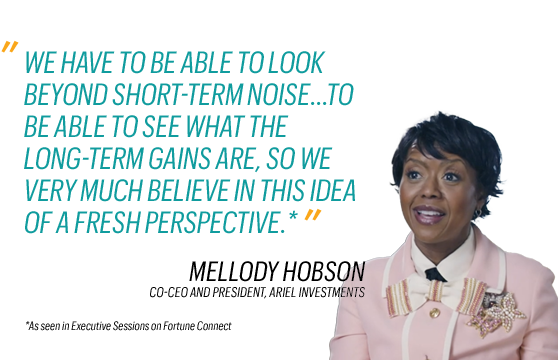 How can I expect to benefit from a membership in Connect?
Fortune Connect™ membership empowers you in four ways:
Exclusive access
Unparalleled access to CEOs, thought leaders, and experts through regular events, as well as special live digital access to Fortune's flagship, invitation-only C-suite level conferences
Community of peers
Meaningful connections with peers across industries, functions, and geographies through Fortune's private membership and social learning platform
Foundational learning sprints
Using the format of quarterly sprints, the Connect Certificate will provide foundational learning in four key areas: purpose, inclusion, stakeholder capitalism, and strategic leadership agility
Self-paced resources
Deep and rich library of Fortune-curated stories and video interviews offering access to business concepts, market dynamics, and leadership examples that you can explore at your own pace
Exclusive access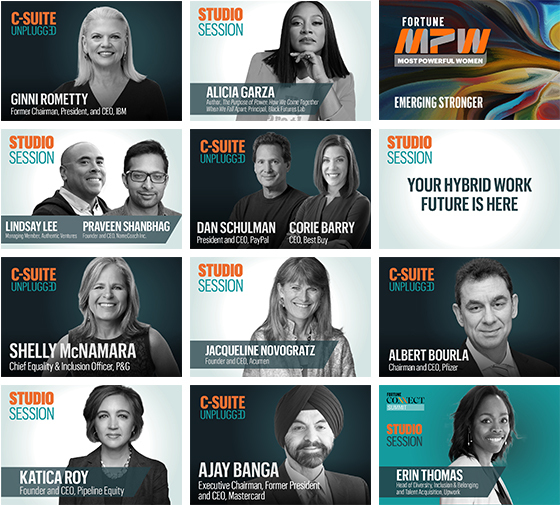 If you have ever attended a Fortune event, you know the power of directly engaging with today's business leaders and visionaries. Our ongoing virtual events make it easy to invigorate your day and provide fresh perspective while offering priceless, intimate access to influential thought leaders. In addition, Connect membership affords you exclusive access to Fortune's flagship events, all within the single price of your membership.
All events are curated and moderated by Fortune editors and designed to expose fellows to new ideas and insights, to encourage self-reflection, and to explore business and leadership topics with other Connect fellows. Connect Events include:
C-suite Unplugged — Monthly conversations with top business executives
Workshop Sessions — Immersive leadership skills training sessions led by expert facilitators on timely leadership topics
Studio Sessions — Intimate conversations with inspirational business leaders
Summits — Connect brings all fellows together to explore a timely business or leadership theme
Fortune Conferences — Digital access to Fortune's premier, invitation-only conferences
Foundational learning sprints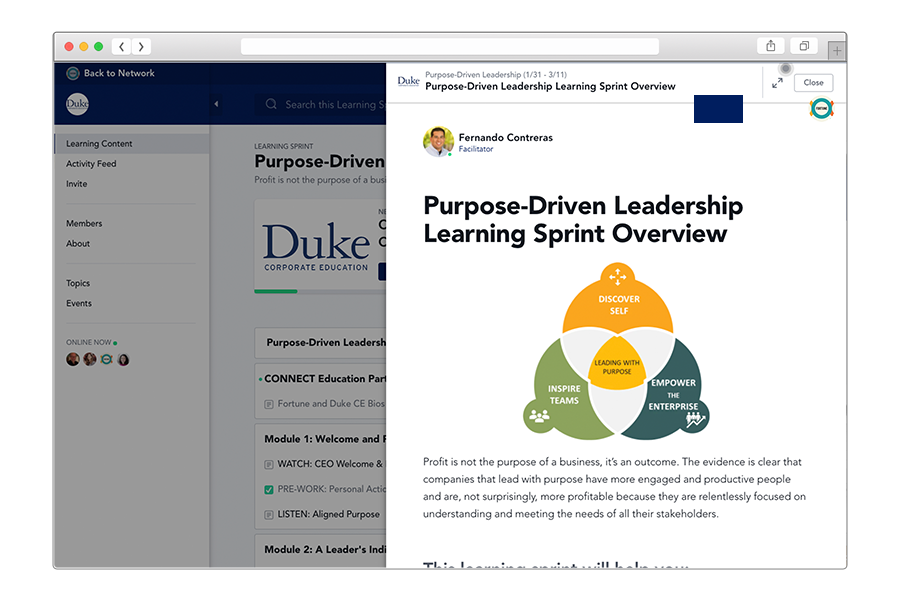 The learning sprints provide you the foundation to lead with confidence in a rapidly changing world. During each learning sprint, you will go on a multi-week learning journey with a cohort of your peers, requiring on average a minimum time commitment of approximately one hour per week. The four learning sprints are: Purpose-Driven Leadership, Leading Courageously in a Stakeholder World, Leadership Agility and Change, Leading with Inclusion and Belonging.
Fortune has partnered with Duke Corporate Education, a premier global provider of leadership solutions, on Connect's inaugural course: Purpose-Driven Leadership. This partnership helps fellows put the future of business and leadership in focus and provides the tools necessary to take action.
In fact, you will kick off your Connect membership by completing the multi-week foundational learning sprint with your onboarding cohort. Each quarter, you will have the opportunity to begin a new foundational learning sprint which will collectively provide the learning required to successfully lead with purpose and inclusion in a stakeholder-driven world.
When you complete four foundational learning sprints, you may be eligible to receive the Fortune Connect Certificate in Purpose-Driven Leadership.
Learn with Fortune Connect
During a learning sprint, and throughout your membership with Connect, you will be encouraged to use the Connect learning model:
Learn
Discover cutting-edge concepts, frameworks, and ideas impacting leadership and business
Do
Practice, experiment, and shepherd new ways of working back at your company
Reflect
Explore the world through new lenses to challenge conventional thinking
Connect
Share insights and learn together with a community of peers
Self-paced resources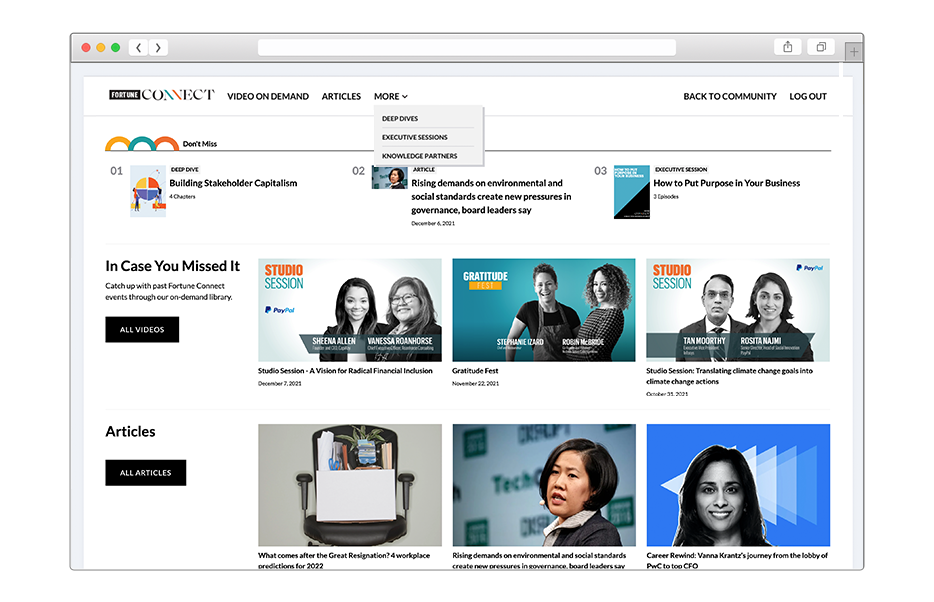 Outside of foundational learning sprints, you will have on-demand access to a rich library of articles, interviews, and events that you can explore at your own pace. If a topic comes up at work and you need guidance, you can dive into this library at any time for insight and share it with your team or other Connect fellows.
We encourage you to explore our Connect Content Hub to experience self-paced resources now, before you begin your membership.
Community of peers
Connect directly with like-minded professionals through the Connect platform, our Community Directory, at special networking events, or within your own organization.
Part of what is so special about Fortune Connect™ is the ability to easily find allies and grow your network so you can collaborate to create change. The Connect platform is a dynamic and private membership and social learning experience that enables you to discover new and interesting content and ideas, collaborate, and learn together.
The Connect mobile app also makes it easy for you to engage quickly, easily, and on-the-go.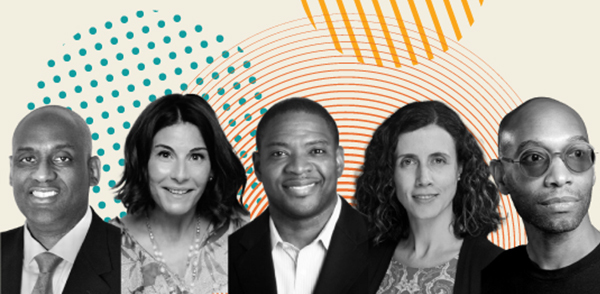 As a certified fellow with a well-established foundation in Purpose-Driven Leadership you will be empowered with all of the knowledge needed to bravely lead change through inclusion and belonging at your company, bolstering the confidence that coworkers, teammates, and stakeholders have in your ability to make transformational decisions and move the brand in new and exciting directions.
For companies interested in sponsoring members
Fortune Connect is a scalable and cost-effective way to enhance your existing leadership development offerings. Through a blend of guided learning, unique access to thought leaders, and a peer community of like-minded individuals, your leaders can grow as purpose-driven, inclusive leaders and have a network of external allies to help solve new challenges for your business.
Want to grow your leadership team for the future? Nominate at least 10 fellows through our Enterprise solution.
A scalable and cost-effective way to enhance your existing leadership development offerings
Promote psychological safety and space to explore and develop as a leader
Provide your leaders access to valuable experiences and other like-minded peers that can help solve new challenges for your business
Individual membership
The world is calling for change – are you ready to step up?
Corporate membership
The world of business is changing – are you changing with it? Partner with Fortune Connect.