The Member Experience
Long before the world went remote and CEOs were routinely asked for comment on sociopolitical events, we at Fortune understood that the future of leadership was evolving. Using data, analysis, rich reporting, and candid, in-depth conversations with experts and leaders, Fortune's editorial team has consistently looked to the future, successfully anticipating how the world would change, and where business leaders should find opportunities to accelerate growth and improve stakeholder outcomes. Now, Fortune invites you to look to the future and accelerate your career with us.
Through Fortune Connect™, you'll have access to an always-on platform offering regularly-refreshed monthly programming and quarterly learning resources. You'll grow your leadership skills, build a network of courageous allies, and keep up with the rapidly changing world of business at your pace. Leveraging Fortune's century of business experience with this future-focused community.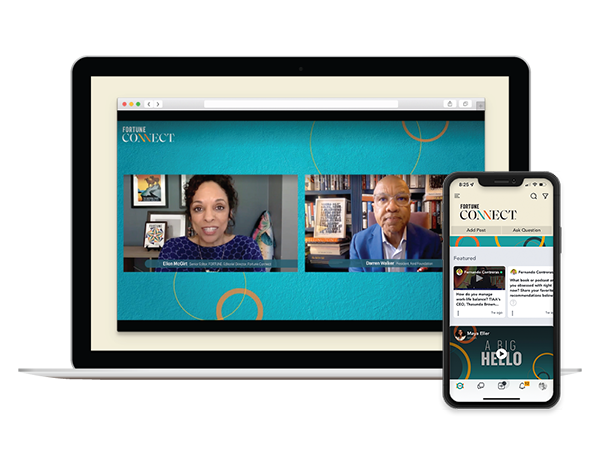 How does Fortune Connect™ keep me at the top of my game?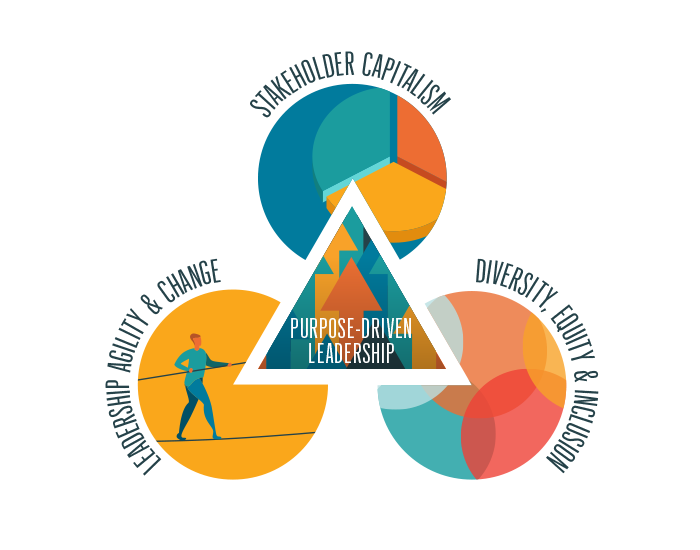 Connect's robust education, inspiration, and networking offerings are designed to keep fellows on the cutting edge of business leadership. Fortune has identified four key forms of leadership that will help you thrive in your career:
Purpose-Driven Leadership
Leading Courageously in a Stakeholder World
Leadership Agility and Change
Inclusive Leadership
How will Connect help transform me as a leader?
No other learning platform future-proofs your leadership skills, provides you with necessary training to help you stand out as a leader, and helps you to grow as a person—all while helping you make a positive impact on the world. What you invest in membership, you will reap in skills necessary for bigger and better roles, and the incalculable impact you will have on your organization.
Specifically, through Connect membership, you can expect to gain:
A deeper understanding of your personal purpose, how that impacts your professional role as a leader in your organization, how your purpose relates to your company's purpose, and why it matters in achieving business success
Increased proficiency in how to lead inclusively, foster diverse and courageous teams, embrace tactics that promote equity and authenticity, and eliminate behaviors that drive exclusion
A new appreciation for how to ethically manage the broad interests of diverse stakeholders and how to balance stakeholder expectations against the demand for financial results
A community of allies outside of your organization who can support you, challenge you, inspire you, celebrate you, and help you solve difficult business problems, while you contribute to each other's success
Who should join?
Fortune Connect is a global program for executive-bound professionals who want to grow their careers while making the world better. Specifically, we look for:
Leaders who are not yet in the C-suite. Directors, SVPs and Vice Presidents are commonly held titles of our fellows.
Applicants from diverse backgrounds.
Those who are dedicated to diversity, equity and inclusion, stakeholder capitalism and purpose-driven leadership.
Leaders located across the globe
In good company

$3300
*Inaugural Offer*
$3300 Annually After First Year
Fortune Connect™ Fellow Membership Fee
The Connect annual membership fee is $3300 with our inaugural offer for your first year at $3300. If you are wishing to apply to Fortune Connect™, we encourage you to speak with your employer to see if they can expense all or some of the program cost as part of your yearly professional development. Additionally, if your employer does not cover the membership fee, please be aware that this course is a qualified education expense and you could receive tax credits. Please visit
irs.gov
for more information.
Individual membership
Don't get left behind – join Fortune Connect today.
Corporate membership
Train the next generation of leaders with Fortune Connect.